Gain More Exposure for Your Clients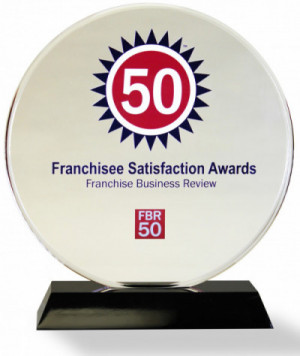 Franchise Business Review is the go-to resource for potential franchise buyers. Every year, we survey thousands of franchise owners across North America and publish a ranking of the top franchises based exclusively on owner satisfaction. In addition we publish reports throughout the year naming the top brands within various franchise sectors.
In franchising, there are many different awards and rankings, but none are more important than FBR's annual franchisee satisfaction awards.
Why Should Your Clients Take Part?
The benefits don't stop with an award. Your clients will also benefit from lead generation and development opportunities, including:  
Broad media and PR exposure to candidates and mainstream media

Industry recognition as a strategic thought leader

Third-party validation from an independent research firm trusted by candidates

Benchmark data to see where you rank against other brands

Data that can be used to capture leads

Distribution of our reports at franchise expos throughout the year and featured online
10 ways your client can leverage their award-winning status.
Registration
The registration deadline for the 2020 Top Franchises Awards is September 30. 
Winner will be notified in early November and announced on January 1, 2020.
Eligibility
Participation in our research is FREE and completely CONFIDENTIAL. We only publicize the brands that score high in franchisee satisfaction – so there's no risk.
To be eligible, franchises must:
Be based in the U.S. or Canada
Have at least 10 franchisees open and operating for six months
Have franchisees participate in Franchise Business Review's franchisee satisfaction survey
Fees
There are no fees to enter. Participation in the survey is free and confidential. Franchise Business Review will only share the brands that choose to make their franchise satisfaction scores public.
What Your Clients Need to Know
The process to qualify for the awards is simple:
Clients must survey their franchisees using our standard benchmarking survey.

FBR will conduct the survey. All we need is a contact list of franchisees and a copy of the brand's FDD.

Your client will receive their Franchisee Satisfaction Index (FSI) score. (Detailed reports and access to the full data is available.)

The FSI score qualifies them for all of our awards lists and reports published for the next 18 months.
Recent Media Coverage
Franchise Business Review's research and special reports are also regularly referenced by leading media outlets including The Wall Street Journal, Fox Small Business, CNBC, Bloomberg Businessweek, Franchise Update, Franchise Times, The New York Times, USA Today, and TheStreet.com.
Franchise Business Review also offers opportunities to advertise online and in our printed reports. Learn more about how to enhance your clients' visibility through advertising to our targeted audience of franchise candidates.