About Franchise Business Review
UPCOMING EVENTS
Looking to take your brand to the next level? Franchise Business Review is a frequent contributor to franchising events and hosts roundtables and online webinars featuring franchise experts sharing practical tips and tactics on franchising best practices to help you kick it up a notch. Learn what other brands are doing to drive success and get your questions answered.
Check out our list of upcoming programs below. And if you can't make it, don't worry. Our Resource Center features tons of tools and recently recorded programs to help you out.
IFA 2021 Virtual Convention
The International Franchise Association is hosting its annual convention virtually  for 2021. This year's event is all about providing you with critical content around the business and economic impacts of franchising, policy updates, franchise development tactics, marketing in this digital age, stories of successful adaptation, fast-tracked innovations and much more. Be sure to visit FBR's booth in the Expo Center!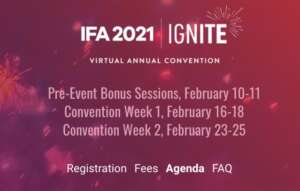 February 11, 2021 | Virtual
IFA Leadership Conference
If there's one theme we can all embrace for 2021, it's resiliency.  The IFA's Annual Leadership Conference's focus this year is The Power of Resiliency: Leading Forward. See how others are leading through adversity and empowering teams to forge ahead, and get the inspiration you need for a resilient 2021.
Access the FREE 30-minute webinar to hear FBR's CEO Eric Stites discuss the detailed findings of our [email protected] study – a first-of-its-kind study of corporate employees across the franchise sector in partnership with the International Franchise Association.
Franchisee Contact List

FDD

Custom Questions

Launch Survey
Real-Time Online Access
Competitive Benchmarking
Suite of Reports Prepared by FBR
Custom Analysis via Online Reporting Tool
Gap Analysis / Reduce Risk
Boost Unit-Level Performance
Accelerate Development
Strategic Roadmap