Explore Our Awards
Franchise Business Review's Awards Set Industry Standards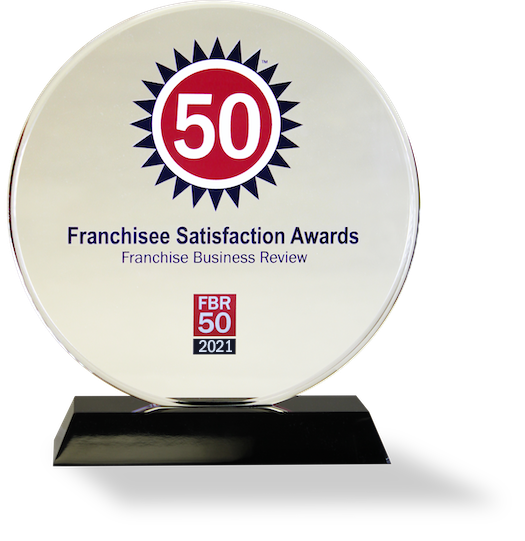 OUR AWARDS
The brands that make up Franchise Business Review's Top Franchises each year are more than just award winners. They're the brands that support and train their franchisees and care enough to ask them what they really think.
Of all the franchises we survey each year, only the very best companies make it onto our awards list. Even more important than the brands on our annual awards list are the brands that aren't. A franchise can't buy its way onto our list through sponsorship or advertising dollars, and it's not about the size of the system or how fast it's growing.
What matters is performance, and we measure it the only true way you can – by surveying the satisfaction of franchisees.
FRANCHISEE SATISFACTION AWARDS
Franchise Business Review's annual Franchisee Satisfaction Awards is North America's only awards program honoring franchise brands for excellence in achieving franchisee satisfaction. Every January, we recognize the Top 50 overall franchises, as well as the 50 best brands in four size classes — emerging, mid-size, large, and enterprise brands. These 200 award-winning brands receive broad industry recognition and media exposure throughout the year.
TOP FOOD FRANCHISES
Each year, Franchise Business Review identifies the top food and beverage franchises in the franchise sector based on owner satisfaction. From QSR to casual dining, retail food concepts to full-service restaurants, FBR recognizes the very best brands with the highest franchisee satisfaction in the food and beverage industry.
TOP LOW-COST FRANCHISES
Franchise Business Review's annual list of the Top Low-Cost Franchises recognizes the best franchise opportunities with an initial investment starting at under $100,000 and ranked highest in satisfaction by their franchisees. The award-winning brands that make this list offer the best opportunity for business ownership in their investment class.
MOST PROFITABLE FRANCHISES
There are many factors that go into a successful franchise, but if franchisees aren't happy owning their business, simply being profitable isn't an indicator of a good investment. Franchise Business Review's Most Profitable Franchises awards recognize the brands that have the highest franchisee satisfaction and a strong track record of producing six-figure incomes for many of their franchise owners.
TOP FRANCHISES FOR WOMEN
More than a quarter of all franchises are owned by women, with more and more investing in franchises every day. Franchise Business Review's Top Franchises for Women celebrates the brands that provide the best franchise opportunities for female entrepreneurs, based on the satisfaction of the women who own them.
FRANCHISING@WORK
Work should be more than a paycheck. In 2019 Franchise Business Review launched the Franchising@WORK Awards – the first and only awards to recognize companies within the franchise sector that have created an engaging and productive workplace culture and whose employees are invested in the performance and success of the company. Only the companies that are rated highest in the industry by the employees themselves are honored with a Franchising@WORK award.