Published October 19, 2020
The Future of Franchisee Onboarding and Training
Is Virtual Training Here to Stay Post-COVID?
At IFA's first-ever MOD Conference I participated in a roundtable discussion focused on Onboarding & Training. Most of the discussion centered around adapting to virtual. The general consensus was that it's going well for most brands, but the real question is, do brands go back to in-person onboarding and training post-pandemic?
As your team works through how to provide the best support through these strange times, and plans for what your program looks like beyond COVID (yes, we WILL get there eventually), I thought I would share some of the discussion our group had.
The Challenges of Virtual Onboarding & Training
The two main challenges of going full virtual are engagement and technology. As with any virtual learning, you're competing with distractions. How can you keep franchisees focused on you and the content being delivered? And how can you make sure they understand what is being shared? Here are some of the ideas and tools franchisors are using for increasing and keeping engagement high:
1. Length of training: What used to be five days in person, is now the equivalent of three days of virtual content. Most operations team members agreed that 2-2 1/2 hours (with a break) was the amount of time you could ask per session before losing people. Some teams are delivering more sessions over three days, others are spreading the sessions over 10 days.
2. Technology: At this point most of us have used multiple platforms to participate in one to one or group video calls and webinars. When bringing new franchisees on board you have to step it up beyond just talking at them.
Get more collaborative with platforms like Google Workspace (formerly G-Suite). You can conduct your meetings here, do slide shows, and even collaborate in documents with the group.
Try using virtual whiteboards, like Ziteboard, to deliver content.
Record training videos that can be used now, and become reference/reinforcement after initial training. Some mentioned these trainings could also be adapted for managers and employees to offer to  franchisees as well.
3. Reinforce Knowledge: Some franchisors are creating physical workbooks they send out to franchisees to use as they go through the training. This appeals to the people who learn from writing things down, or like the hard copy of content to go along with the virtual. Support teams are using this to set expectations before training begins and focus on the most important takeaways during training sessions. It's also great for retraining older franchisees. Some tips that making this tactic effective:
Keep it short; hit the highlights of each presentation/session and work some fun into it if you can.
Have exercises or homework franchisees can do to help reinforce the lesson.
Use polls, or incorporate questions and quizzes (both in the workbooks and throughout the virtual sessions) to test knowledge/retention as well.
4. Build (Work and Social) Relationships: Giving franchisees the opportunity to connect with your corporate team and other franchisees is important in the early days to keep them excited about the brand and create relationships that will help them be stronger franchise partners. In addition to the work opportunities, make sure to incorporate some fun around/outside the learning time you have scheduled. Some of the ideas for building stronger relationships:
Schedule one on ones for franchisees with each member on the executive and support teams.
Assign New Owner Coaches – a support team member that works with each new franchisee for one year to help them get started and ramp up.
Make virtual introductions to neighboring franchisees.
Set up chat groups that meet weekly/bi-weekly or monthly. This can be done for all your franchisees. Create them by tenure (new owners and the old timers) by regions, or by number of locations, or set up women owners groups.
Have happy hour Zoom calls. If you are doing it with the whole system, consider Zoom breakout rooms to keep the groups smaller so everyone is contributing.
Team up new franchisees and corporate team members to compete in virtual scavenger hunts to have some fun and create teamwork and competition.
As we weighed the pros and cons of virtual onboarding and training programs, it seems most candidates are happy to not have to take the time and expense to get to the in person training. While most systems still need more time to measure the long term success of these newer franchisees who received virtual training, indications point to virtual onboarding and training (in some capacity) is here to stay.
---
Related Content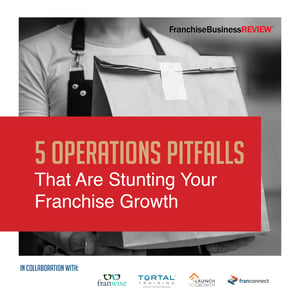 5 Operations Pitfalls That Are Stunting Your Franchise Growth
Before you spend another dime on development efforts, learn five common operations pitfalls that franchisors miss – and how to fix them. 

Want more like this? Connect with us...