Top Considerations for Transferring a Franchise Business
Even before you purchase your franchise, be it a new franchise or an existing franchise, it's important to think about your exit plan. It may seem silly to think about a sale or a transfer before you have even purchased or when you have just acquired your business, but planning ahead is critical when investing in a franchise.
For franchisees, this issue is particularly important since unlike independent business owners, the sale of a franchise is governed by your franchise agreement or agreements. Among other things those agreements require franchisor approval to sell and often one of the conditions of such a sale are costly equipment and location upgrades before a transfer or sale, according to Forbes. In addition, there are important tax considerations that come into play. The lack of an exit plan can greatly impact the value of the franchise when it's time to sell.  And of course, for each retail location, you will have a lease agreement that addresses transferability and assignment.
So, whether you are looking to retire in a few years, want to exit out of your franchise business soon, or are about to invest in your first franchise, the direction you take may vary, depending on whether you intend to assign your franchise to your family, your partners, or new owners entirely.
It gets especially tricky to navigate the process if you operate or intend to operate multi-unit or multi-concept franchises in a franchise system, which operate under different franchise agreements and lease agreements all with varying clauses about how to transfer or sell your business said Michael Einbinder of Einbinder & Dunn LLP, whose New York based firm represents both franchisors and franchisees nationwide.
Carefully Analyze All Franchise Agreements
Franchisee businesses are bound by franchise agreements and, often many iterations of them, which can make buying an existing franchise more complicated. Even within one brand, a franchisee may have multiple iterations of their franchise agreements if they signed on at different times – and if they are in more than one system, they will have signed several different agreements–all of which will contain different restrictions on transfers.
Any franchisee considering transfers will have to comply with provisions of those agreements that address their ability to transfer their businesses to successors or third parties, Einbinder  said. They will also have to work with the franchisor to understand how they want to address that transaction. It is critical to receive franchisor approval before working towards any proposed transfer. In fact, some agreements may require franchisor approval before the franchisee even approaches prospective purchasers or assignees, he said.
"A client may want to sell or transfer more than one franchise at a time. For instance, someone may want to sell 10 restaurants. These restaurants could be all the same brand, or they could be two different brands; but no matter what, they will each have their own franchise agreement," Einbinder said. "Franchisors modify their franchise agreements from year to year, often adding additional requirements for franchisees."
It's important to look at all your documentation before you get ready to exit, which is why franchisees often work with franchise attorneys who can look at each iteration of a franchise agreement and determine ways in which they can be properly packaged to be made ready for assignment or sale, Einbinder said.
Understand the Difference Between Assigning Your Franchise and Selling It
The difference between assigning your franchise and selling it is a technical one, explained Richard Rosen, an attorney with the New York-based firm, Richard Rosen, PLLC.
"You don't assign a franchise per se; what you do is sell a franchise, but what you may or may not do is sell it with the original franchise agreement. It's a subtle distinction. If you own a Burger King and sell your franchise, you are selling the franchise, but you aren't transferring your franchise agreement along with it," he said.
That means that a new owner can either take an assignment of your existing franchise agreement or enter into a new agreement with the franchisor. Most franchisors include in their franchise agreements the right of first purchase or the right of first refusal. To protect yourself, you as a franchisee can work with a lawyer to negotiate an exception to that provision; for example, the right to transfer your franchise agreement to your children or leave it in trust to your minor children, Rosen said.
Some reasons you might want to transfer vs. sell your franchise:
The terms of your franchise agreement are more favorable than the franchise's most recent agreement; and therefore, more attractive to a buyer
Your business is not highly profitable. A marginally profitable business can be very difficult to sell. Finding a buyer can be a lengthy process, and you might not get the selling price you are looking for.
You plan to assign your franchise to your existing business partner with the locations, and terms of the franchise agreement in place
You want to leave a legacy and transfer your franchise to your son, daughter or other relative
Build a Succession Plan Several Years Out
Particularly if your dream includes leaving your franchise to your son, daughter, or other family member, you should let your family member—and franchisor—know your plan. One of the first (and best) things you can do is to plan and get your family members involved in the business, Einbinder said.
"Introduce them to decision makers and help them build a relationship with the franchisor and your important customers. You want your franchisor to know who they are, so have them come with you to meetings," Einbinder said.
You'll also want your successor to gain enough experience and build deep enough relationships with your senior managers so that you'll have buy-in when you ultimately retire and transfer your business.
Franchisors may put forth reasonable conditions on your transfer to a third party, as well, Rosen said.
"Transferees might need to meet the franchisor's character requirements that apply to other transfers," he said. "If the transferee is a minor and not able to manage a business under those circumstances, you may have to provide a manager for the business, and they may need to complete things within a period of time to qualify to run the business," he said.
And, if you have more than one son or daughter, for example, you'll need buy-in from them in terms of how business responsibilities will be split. Some family members may want cash in lieu of a franchise interest, while others want to be actively involved in the franchise.
In the end, your franchise agreements will govern whether you can transfer your franchise to family members at all. That is where attorneys can help you work through the provisions of your agreement and think about what plans you can make after retirement, or upon disability or death.
"Some franchise agreements say that if upon your death you have not otherwise made plans, then the franchisor has the option to cancel the franchise agreement and your estate has 180 days to sell it," Einbinder said.
That's why it's important to start any transfer conversation with a lawyer. Everyone should be thinking about what they will do when they get out, according to Einbinder.
"During this process, you should create and structure your business in a way that makes a transfer less complicated. Work with your attorney, finance person, look at all agreements, review your books, and see how everything is set up," he said.
Review Your Lease Agreements
Another key issue in the transfer process includes understanding how to manage your lease agreements.
The real estate aspect of multi-unit and multi-concepts franchises can quickly become complicated because of the number of properties/leases at issue – all of which may contain varying restrictions on transfers/assignments or other problematic clauses, Einbinder said.
Many franchise systems are retail/ real estate based. If the franchisee owns its building or properties, that may make a transfer less complicated; however, if the franchisee leases its retail locations, lease provisions relating to assignments of leases and change in control of the franchisee entities provides another complicating factor.
"Running a home-based franchise (such as a cleaning business or business that relies only on sales people) eliminates the real estate problem," Einbinder said. "But with retail-based franchises it can get super complicated if you own or lease real estate along with them."
Just because you've transferred your franchise over to someone else, it does not mean that your lease agreements can be automatically transferred, too. Some lease agreements specifically do not allow you to transfer over a lease. For example, if you want to transfer it over to your 25-year-old son, you may still have to be on the lease depending on your son's financial situation; whereas it might be easier to transfer your lease over to a business partner who already has 50% interest, he said.
One misconception a franchisee might have is that if they sell the franchise, they also assign their lease and they are off the hook for any payment. Rosen cautions franchisees that this is not the case.
"Unless provided in the lease guarantee, that upon sale, the franchisee is released, you usually have to provide a buyer to replace you. Without dotting the I's and crossing the T's, you may think that you are off the hook by selling or assigning, but you probably won't be," he said.
Pay Attention to Current Transfer Trends
Lending Trends
Multi-unit transfers tend to be more popular than single-unit ones, which means it may be easier to transfer a larger entity than a smaller one, Rosen said. Single unit franchises certainly sell, but it might take a little longer to complete the deal, he said.
Financing can be easier to obtain for multi-unit transfers. That's because franchises with few locations are less attractive, in part because they lack proof that they can do well in all types of areas or economic climates, according to The Wall Street Journal.
Aside from the usual cash, credit cards or even asking for financial support from family and friends, the most common methods used to finance single and multi-unit franchise purchases include loans from the Small Business Administration, 401(k) business financing, unsecured loans and portfolio loans, according to Guidant Financial.
Buying Trends
Internet sales continue to have a deep impact on the performance of retail franchises as well, as malls continue to shutter retail stores across the country. As mall traffic steadily declines, retail concepts are going to have to evolve in order to stay relevant. Last year, Rosen presented a paper on the effect of the internet on retail sales in the International Edition of Who's Who Legal: Franchise, which cites Credit Suisse's prediction that between 20 and 25% of American shopping malls are predicted to close in the next five years.
"Lenders may be reluctant to commit funds to projects that, in the past, they had fought over, or if they do lend, interest rates may increase and loan to equity ratios will become less favorable for developers. Tenants will become more conservative in committing to costly locations calling for exorbitant rents. Rents, therefore, will fall. All of these factors will, inevitably, have an impact on retail franchising, which will, of course, include the enthusiasm with which prospective franchisees view the franchise opportunities available to them," Rosen said in the paper.
Taking Steps Toward an Exit
If you don't have a franchise exit plan in place now, you can start by taking these steps today:
Find an experienced franchise attorney and a financial advisor or accountant, who can advise and assist you in developing a plan. They will also be able to offer insight on laws and regulations that you should keep in mind.
Be clear on your primary exit goal. Do you want to transfer to a family member? Sell it to a third party? Transfer it back to the franchisor?
Plan ahead. You should begin to plan your exit at least two to five years (or more) ahead of your anticipated sell date.
Think about ways to increase the value of your business today so that when you ultimately sell or transfer, you will be leveraging a valuable asset.
"An analysis of the relevant franchise agreement and lease provisions is key if a franchisee is considering a transfer or sale, even if that event is not in the immediate future.  Working with a franchisor and getting feedback on any plan, even at an early stage is also recommended," Einbinder said. "Ultimately, you can't plan too far ahead when it comes to thinking about transferring your franchise."
---
Related Content: eBook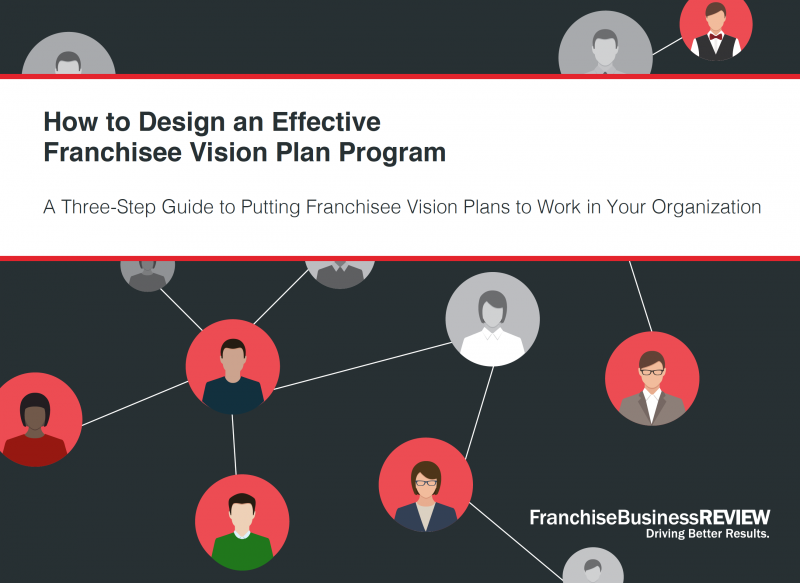 How to Design an Effective Franchisee Vision Plan Program

What sets the top-performing franchisees apart? A clear, personalized vision for their business.
This eBook is a must-read for any franchisor looking to increase franchisee satisfaction and improve overall performance.
Want more like this? Connect with us...