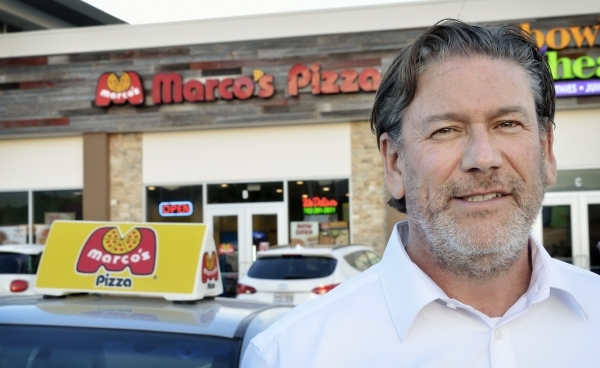 Published October 4, 2016
How Marco's Pizza Has Achieved Revenue Growth of 23.5%
Marco's Pizza opened 113 stores in 2015, with revenue growth of 23.5% over the previous year. Bryon Stephens, President and Chief Operating Officer of Marco's Pizza, believes keeping the brand current and involved in the community, while providing franchisees with extensive support, has helped achieve this growth. He shared some of the successful approaches Marco's Pizza has taken with Franchise Business Review.
Engage in Community Centric Marketing: Over the past few years Marco's Pizza has increasingly focused on local communities and debuted its "Slice of the Community" program. An example of this approach was when Marco's Pizza introduced fresh spinach as a new menu item. Its customers were invited to exchange a can of spinach for a free pizza that included a fresh spinach topping. Marco's Pizza then delivered the thousands of cans of spinach that were collected to local food banks. For the introduction of S'mores and Double Chocolate Brownies, Marco's played off the S'mores flavor connection to camping and donated $1 for each brownie sold to local youth organizations that take kids camping in each community.
Make Profitability a Focus:
Marco's Pizza introduced a 5-star guest experience focus with sophisticated technology that pinpoints what a store needs to improve in order to WOW customers and keep them coming back, which greatly improves revenue. Marco's Pizza offers a "Promise of Delight" to customers – "If you aren't delighted, tell us. We'll make it right by you."
Marco's Pizza's Vice President of Purchasing reports every week to franchisees the savings that Marco's Pizza was able to negotiate on both food and equipment, and how that affects each store.
Marco's Pizza named a Vice President of Store Profitability in 2014 who is a franchisee himself with highly profitable stores. His prevue covers:

Profit and Loss analysis and ideal benchmarks
Segments on the monthly web broadcasts featuring ways to increase profitability and reduce costs
Individual P&L analysis and evaluation for franchisees
Support Your Franchisees: Marco's Pizza supports new and existing franchisees in a variety of ways including:
Dedicated personnel help franchisees obtain financing via a variety of vehicles including SBA loans and other financing partnerships.
Best-in-class training that ranges from hands-on product training in the new test/training kitchen, to classroom learning on running a business that covers everything from Profit and Loss statements to how to hire and supervise employees, to an ongoing eLearning curriculum for General Managers and employees is provided.
A Dedicated Development Director helps franchisees with each step of the process including site selection, store construction, legal requirements and an intranet resource that leads them through what needs to be done by when.
Construction guidance is provided to franchisees to ensure high quality, efficient store construction.
Grand Opening experts launch new locations with an eye toward obtaining maximum community presence right out of the gate.
Ongoing marketing assistance is provided to franchisees by a Regional Marketing Manager who is expert in their specific markets.
Ongoing field-based operations assistance is provided to franchisees via routine in-store visits.
An introduction to and ongoing practices of the company's culture of accountability, including seven Cultural Beliefs that provide the framework by which Marco's Pizza does business, such as Execute Excellence and Embody Trust, are shared with all new franchisees
When best practices are identified, they either become Standard Operating Procedures for all stores to follow, or recommended practices that may work in a franchisee's market. Marco's Pizza shares those best practices via a weekly eNewsletter, monthly web broadcasts to all stores, the intranet, face to face at company meetings and via a new eLearning platform, and continuous personal communication with franchisees by both executives and field reps.
Don't Let Your Menu Get Stale: Marco's Pizza has its very own Chef on the roster, who, in his almost two years with the company, developed five Limited Time Offer pizzas and teamed with Ghirardelli to create new dessert brownies that have proven to be customer favorites.
Marco's Pizza plans to open at least an additional 125 stores in 2016, the bulk of which will be in the United States, although it could also see international outreach come to fruition with an eye on new stores in India and Africa. Marco's Pizza is opening franchises in many states throughout the United States, but its current targets include the Southeast, southwest, West, Rockies, Midwest, and northern plains.
Free 10-Minute Demo
What are your franchisees saying about your brand? It could be tanking your marketing and development efforts.
Now's the time to find out. In 10 minutes, we'll show you how to get:
A confidential assessment of your brand
Your FSI benchmark score, which shows where you rank
The opportunity to be recognized as a Top Franchise award winner