5 Things You Need to Know When Planning a Survey
Whether this is your first time reaching out to formally measure franchisee satisfaction and feedback, or you're planning for your annual survey already in place, there are a few simple must-know rules of thumb to help maximize participation and make the most of the data you collect.
1. Give franchisees the opportunity to answer anonymously.
The ultimate hope is that franchisees feel comfortable providing their name with their feedback, but in reality, that's not always the case. Make sure franchisees have the option to answer the survey anonymously to ensure you get honest and open feedback. Better yet, have an independent third-party (like Franchise Business Review) conduct the survey so franchisees understand that their responses are completely confidential.
2. Pick a time and stick to it.
There will always be a reason to push off your survey – whether it's other franchisee initiatives, corporate staff changes, technology rollouts, or any of the hundreds of other rationales. But don't do it!  To be most effective, franchisee satisfaction should be measured annually in order to 1) collect data year over year so you can measure progress and identify trends, and 2) demonstrate a commitment to franchisees that you're invested in the relationship with them for the long haul.
3. Choose the time wisely.
While the most important thing is to conduct the survey (at least) annually, you should also consider the time of year that makes the most sense. If your franchisees' business is cyclical, don't do it at the busiest time or the slowest time of year. Try to choose a time when franchisees aren't overly stressed – either because they're too busy or not busy enough.
4. Close the feedback loop.
Once you have your survey data in hand, it's imperative you share the results with your franchisees, and your plan for implementing changes based on their feedback. You don't have to take every piece of feedback, but if you're not going to do something, it's  important to acknowledge it and share why it doesn't make sense for your system. This will go a long way in building trust and transparency with your franchisees, as well as aligning expectations of franchisees and corporate. And, when your franchisees see that you're actually listening and carefully considering what they have to say, they'll be more likely to participate in future surveys.
Dave Mattson, CEO of Sandler Training, reads every single franchisee comment from their surveys. Read this interview to see how he uses it for continuous growth of their system.
5. Measure continuously to dig deep.
Doing an annual franchisee satisfaction survey is a most definitely a franchise best practice, But, if you really want to nail it, do some short, pulse surveys in between to dig deeper into a specific area for improvement and/or measure how new programs or initiatives are being received. Pulse surveys can be as short as 1-5 questions and can be done to specific segments of your system to give you greater insights into whether what you're doing is working and make necessary adjustments before rolling out changes system-wide.
Need more help with your survey planning? Contact me to get started!
---
Related Content
The Top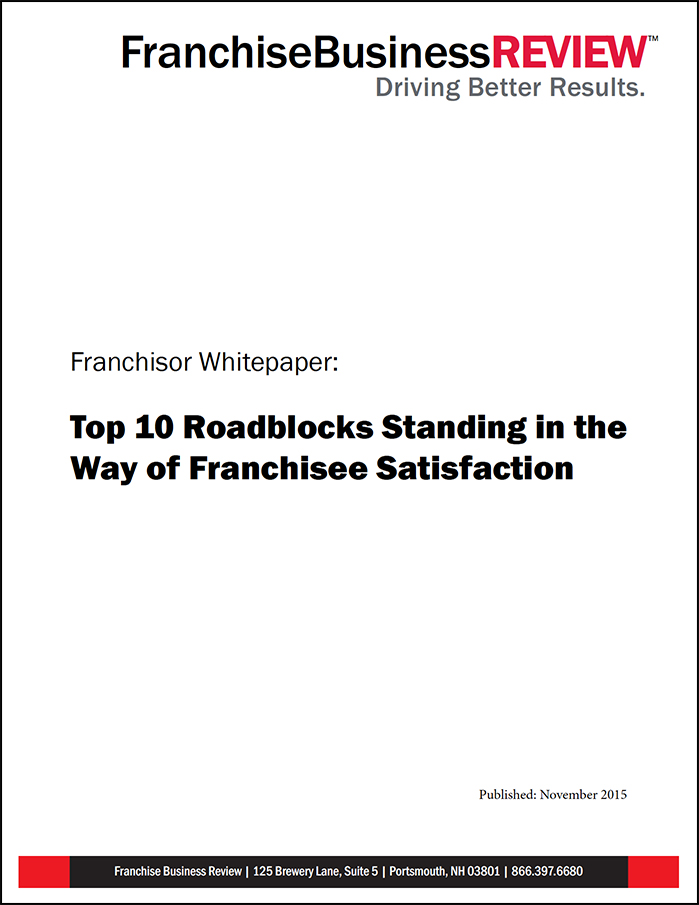 10 Roadblocks Standing in the Way of Franchisee Satisfaction
Research shows that brands with high franchisee satisfaction drastically outperform brands with low satisfaction on every key performance metric. Find out which of these roadblocks are standing in the way of accelerating your brand's growth and profitability.