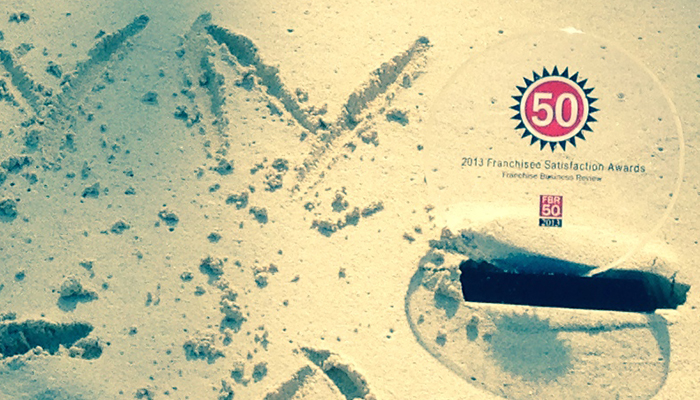 Top 4 Unorthodox Ways to Promote Your Franchisee Satisfaction
The FBR team loves seeing clients promote their Franchisee Satisfaction Awards. From activating a listing on FBR50.com to proudly displaying their award graphic on their franchise website, we're honored that great brands put so much value in the recognition we (but really, their franchisees), give them.
Still, there are some brands that go above and beyond the typical ways we suggest the award be promoted. Here are some of our favorite examples:
4) Smack Dab in the Middle of a Franchising Page
Recognition for high franchisee satisfaction belongs on a franchise development website, and JumpBunch is not unique in including an FBR graphic on theirs. But what makes this one different is that it's the first thing a visitor's eyes will find. JumpBunch is proud of what their franchisees say, and they want everyone on their site to know it!
Every brand has its sales points that it wants to drive home to potential franchise candidates, but leading off with third-party validation immediately lets candidates know that the current franchisees are happy they made the decision to start this business.
3) On a Franchise Expo Event Badge
Did you attend Franchise Expo South in Houston this year? If so, you may have noticed that Huntington Learning Center sponsored the event badge. Right on the front, you'll notice the 50 Burst alongside various other partners and credentials:
Even better, though, is that the flipside features their award graphic prominently within the main creative:
61% higher franchise revenue AND highly satisfied franchise owners? Now that's effective marketing!
2) At the Beach…?
Bathing suit? Check.
Sunscreen? Check.
Franchisee Satisfaction Award? If you were on Our Town America's convention cruise in 2014… Check.
The Our Town team, led by CEO Michael Plummer, Jr., took their award to their annual convention, which just happened to be aboard a cruise ship that made a stop in Mexico.
We know that great franchisee satisfaction helps many franchisors stay afloat, but this is a little more literal than we'd expect:
And thanks to the Our Town team for making sure the award got its own photo shoot!

And the number one unorthodox placement of a franchisee satisfaction award….
1) On a Baseball Bat
Window Genie hit a homerun with this one.
Now, we'll be honest… we're not quite sure what baseball has to do with Window Genie. In fact, they almost seem like enemies once you factor in kids practicing their swings a little too close to the house. Regardless, we love the idea AND the execution of this. It's definitely the most unique placement of an FBR50 award recognition that we've seen.
Who's next?
We know our clients are always looking to one-up each other, especially their direct competitors. We challenge you, our award-winning clients, to create your own unique display of pride using your award.
Already have something you want to show us? Send it over. We'd love to give you a shout out on social media!
Want more like this? Connect with us...