Published September 4, 2018
5 Must-Have Resources for Emerging Franchise Brands
Emerging franchise systems have an advantage over larger ones. They can be more agile, pivoting quickly to take advantage of changes in the marketplace, and often they are innovative concepts that have great appeal to millennials and other candidates looking for a business concept that is new and different.
However, what emerging franchises sometimes lack (simply by nature of being emerging) is the time-tested strategies and operations experience of a larger, more established brand. Fortunately, the franchising community has a strong and vibrant network of franchisors ready and willing to share their expertise and advice.
There is an abundance of conferences available, including the International Franchise Association's annual convention and their Emerging Franchisor conference, as well as Springboard, a conference dedicated specifically to emerging brands.
In addition, we've pulled together these must-have resources for emerging brands, full of best practices we've collected from franchisors who are growing their brands strategically while maintaining a system of highly satisfied (and profitable) franchisees.
Top Five Resources for Emerging Franchises
1. A Crash Course in the World of Franchising (whitepaper)
For anyone new to the franchise industry or onboarding employees who are new to franchising, this whitepaper provides a concise overview of key industry resources, the various roles in franchising, and relationship building with franchisees and industry connections.
2. Five Tips for Emerging Brands (webinar)
This short 30-minute webinar talks about what top emerging brands are doing to grow their brands and cash in on franchisee satisfaction. You'll learn where they spend their development dollars, why weak validation can be a brand killer, common operations mistakes you can easily avoid, and how to benchmark your brand against other emerging brands.
3. Five Easy, Low-Cost Ways to Boost Growth (video)
Franchisee satisfaction can have a direct impact on your bottom line – but it doesn't have to cost you a lot. In under five minutes, get five easy ideas that don't require a budget to help you boost the growth of your franchise system.
4. How to Design an Effective Franchisee Vision Plan Program (eBook)
A clear, personalized vision for their business is what sets top-performing franchisees apart – and having this in place early on as your system grows can help ensure you and your franchisees are working toward a common goal. This eBook takes you through a three-step plan for implementing franchisee vision plans, and explains the difference between a business plan and a vision plan, tips and templates for helping franchisees turn dreams into reality, and how to align expectations and keep franchisees on track.
5. High-Performing Business Development for Franchisors (research)
In this special research insights report, experienced franchisors share their development challenges and how they've addressed them to improve performance. In addition, it features practical advice and tools to help you attract better candidates and close more deals with the right franchisees.
Franchise Business Review publishes an annual list of the Top Emerging Franchises, which is viewed by thousands of franchise candidates looking to buy a franchise. In addition, we publish the overall Top Franchises each year as well as the top franchises in specific sectors.
If you have at least 10 franchisees open and operating, click here to find out how to qualify for our awards and enter your brand now.
For more great (and FREE!)  resources visit our online Resource Center or subscribe to our newsletter for monthly updates on new content available.
---
Related Content
The Top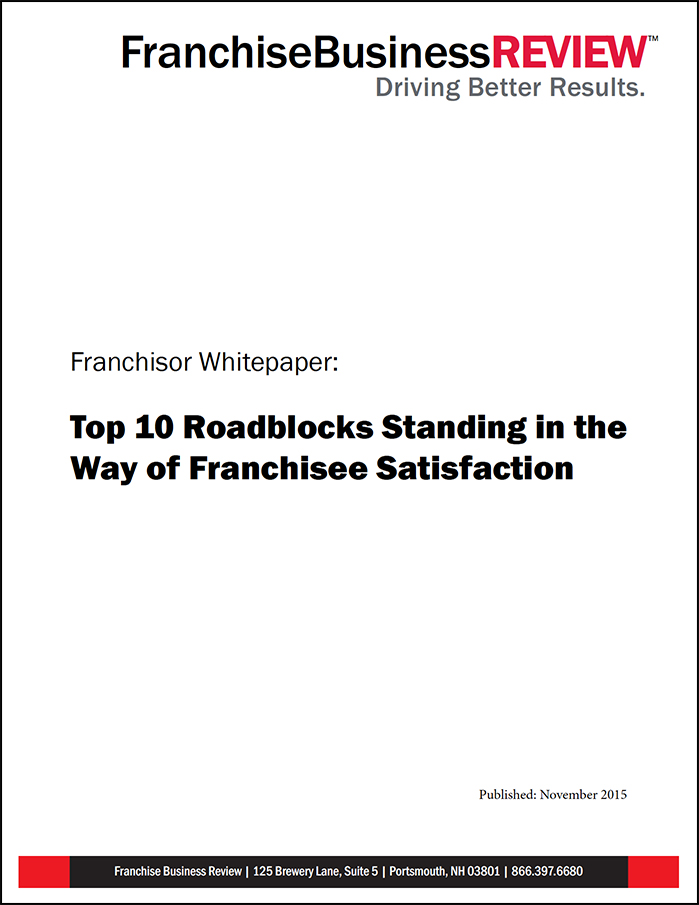 10 Roadblocks Standing in the Way of Franchisee Satisfaction
Research shows that brands with high franchisee satisfaction drastically outperform brands with low satisfaction on every key performance metric. Find out which of these roadblocks are standing in the way of accelerating your brand's growth and profitability. 
Want more like this? Connect with us...