Published February 6, 2019
The Year in REVIEW: 2018
A look back at the highlights from last year and what everyone was talking about.
Franchise Culture
It seems like you couldn't turn around in 2018 without hearing someone talk about company culture. It's no surprise that tech companies such as Google and Hubspot were the pioneers of cultivating an over-the-top culture, but now the rest of the world is catching up and paying attention to what makes a positive culture and how it affects the success of a business.
From the IFA's all new Operations Seminar to the 2018 (and 2019) IFA Convention, culture was, and continues to be a hot topic. Franchise executives recognize that the franchising model is unique when it comes to culture and with unemployment at all time lows, it's more important than ever to pay attention to franchise culture.
Creating and Maintaining a Positive Culture   
Despite its critical importance, culture is frequently overlooked by those in leadership roles. Yet, at the end of the day, franchise leadership is responsible for the impacts (positive or negative) on productivity and profitability. Franchise Business Review's President Michelle Rowan and Roger McCoy, a Franchise Business Consultant, authored The CEO's Guide to Creating and Maintaining a Positive Culture in Franchising to help franchisors better understand how to drive real results by making culture a priority. Get your copy here.
Aligning Operations and Development
Ops and development teams are often under the same executive leader, yet operate with their own goals and objectives. When they come together, it can be a match made in heaven. The 2018 Performance Webinar Series tackled how to shift mindsets to grow your your organization by creating a common vision and shared goals. From how to measure employee engagement and create a positive workplace culture, to ensuring franchisee expectations are being met, the series delivered expert advice from some of the most successful franchise brands. Get the Performance Series on-demand.
"It was helpful hearing about some new ideas, getting reminded of things I forgot, and also getting reinforcement for things that we are doing well!"
Content Marketing
Content marketing is, perhaps, one of the most important components in a franchise's marketing strategy. Consumers and search engines have become increasingly sophisticated, making the power of great content more important than ever before. With so much information floating around the Internet, it can be difficult to differentiate the content you provide to your audience from the rest. To be successful, franchise brands are going to have to make significant investments in content marketing.
Creating a Content Marketing Strategy to Attract More Franchise Candidates
Whether you're just dipping your toe into content marketing or are looking for ideas on how to maximize your current efforts, this article offers tips specifically for franchisors on how to build content to attract more, and new, franchise candidates. Read more.
Content Marketing for Franchises: The 3 Most Common Challenges and How to Overcome Them
We've compiled the  three most common challenges we hear from franchises in regards to content marketing, as well as some resources and tips to help your strategy succeed. Read more.
Recruitment Strategies
When it becomes harder to find a job, many people decide starting their own business is a better option. But in 2018, this wasn't the case. With an ultra-competitive job market and a booming economy, it wasn't just  difficult to hire at the corporate level;,fewer people were deciding to take the risk to start their own business, leaving franchisors wondering how to find enough viable candidates to keep up with demand.
Development Drought? Tap Into a New Well of Qualified Leads
With franchisors all competing for a limited number of candidates, development teams need to get creative when finding new leads. One way to do that is to differentiate your brand and back up your sales and marketing efforts with third party validation. FBR offers practical ideas on how to accelerate development. Read more.
10 Tips and Tricks to Crush Your Franchise Recruitment Goals with Data Storytelling
Sales is all about storytelling: Connecting with your audience on a human level. And while data – cold hard numbers – may not seem like it gives your audience the warm and fuzzies, data is actually a powerful storytelling tool. Think about it: what's more telling than actual feedback from the humans who are experiencing business ownership with your brand? These tips and tricks can help you understand how to leverage franchisee data to tell your brand story and attract more franchise candidates. Read more.
Looking for an easy way to implement a multi-channel recruitment strategy? Learn more about our Recruitment Bundle – a one-stop-shop for building your sales pipeline and closing deals.
Emerging Brands
The FranConnect Franchise Sales Index Report 2018 points out that the franchise market grew at an impressive pace, with an estimated 300 new franchises entering the market each year. And private equity firms are more active in the franchising space than ever before. The Springboard Event  in Philadelphia drew a crowd of hundreds of emerging franchisors to learn from seasoned franchise executives how to be successful in the complicated franchise landscape. For those who couldn't make it, these resources are a good place to start.
FBR was named a Top 10 Dealmaker by Franconnect in their Franchise Sales Index Report for 2018. The sales index included data analysis and insights from over 500 franchisors across an array of industries on lead generation, KPI tracking, candidate nurture and closure, sales funnel management and more. Request the full report for more details.
5 Must-Have Resources for Emerging Franchise Brands
What emerging franchises sometimes lack (simply by nature of being emerging) is the time-tested strategies and operations experience of a larger, more established brand. This article rounds up some of the best practices for emerging franchisors. Read more.
6 Easy Communication Tips for Keeping Franchisee Relationships on Track
As an emerging brand, it might seem easy at first to maintain a close working relationship with your franchisees. But as you grow, it can become harder and harder to keep those lines of communication open, or meet the growing demand for your attention. This article can help you keep those crucial relationships on track. Read more.
Innovation
When you think of innovation, what companies immediately jump to mind? Uber? Apple? Amazon? Tesla? While franchises aren't typically top of mind when it comes to innovation, there are many brands that are successfully pushing the envelope. In 2018, we took a look at that brands that are leading the franchise industry to adopt new ways of thinking.
The 100 Most Innovative Franchise Brands of 2018
FBR analyzed 18 months worth of data from over 24,000 franchisees representing 280 brands. We asked franchisees about brand innovation and creativity within their systems, as well as overall satisfaction. See which brands are not just coming up with creative ideas, but are executing on those ideas – and keeping their franchisees highly satisfied in the process. See the List.
How to Convert More Calls to Franchise Applications
Today's franchise candidates are coming into the development process more educated than ever before, and when they choose to speak to a brand's sales team, they expect more than a basic screening. Savvy franchisors are recognizing that they need to stay ahead of the curve to make that first call as effective as possible. This article dives into the innovative AI tools that are helping franchisors to drive prospect engagement early on and drive conversion rates. Read more.
A Look Ahead
We talk with dozens of franchisors every day, and one of the recurring themes is employee engagement. Culture is surely an important part of keeping employees happy and satisfied, but with the job market continuing to remain tight, it's going to be more important than ever to focus on employee engagement.
With the unique combination of a strong economy yet growth challenges, Franchise Business Review decided to conduct a first-of-its-kind study of corporate employees across the franchise sector, the [email protected] Employee Engagement & Compensation Study.
The full findings will be released in March, but some of the initial highlights indicate that overall satisfaction and engagement are very high, but areas of opportunity and risk remain – including the gender pay gap, lower satisfaction among customer-facing employees, and getting buy-in from millennials, to name a few.
High employee satisfaction and engagement will clearly have a significant and positive impact on your organization in 2019 and beyond. Join us on March 14, 2019 for a free webinar when we'll release the full report and reveal the [email protected] award-winning brands.
---
Related Content: Free Planning Tool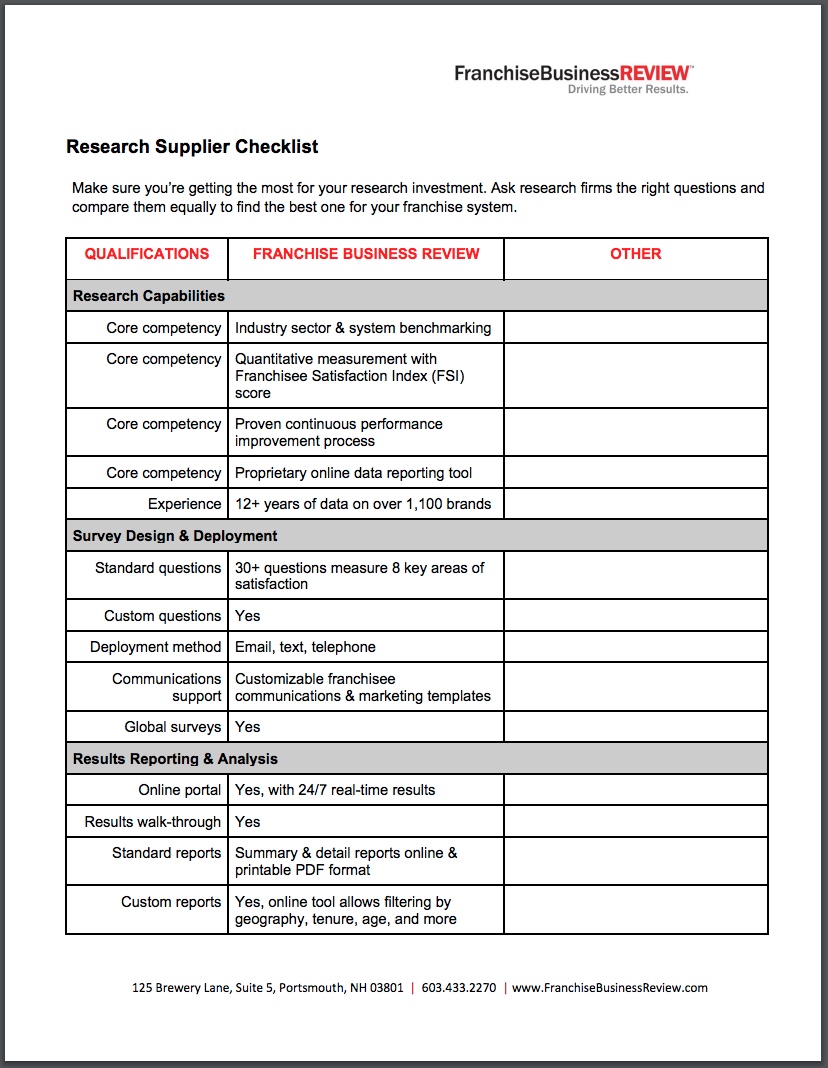 Research Supplier Checklist

Thinking about adding franchisee satisfaction surveys to your annual operating plan? If you're not already using franchisee satisfaction research data to identify organizational priorities and accelerate development, now's the time! This free comparison tool will help you get the most for your investment.